NOTICE: Activation key must be used on a valid Bethesda account. Requires internet connection.
Preorder offer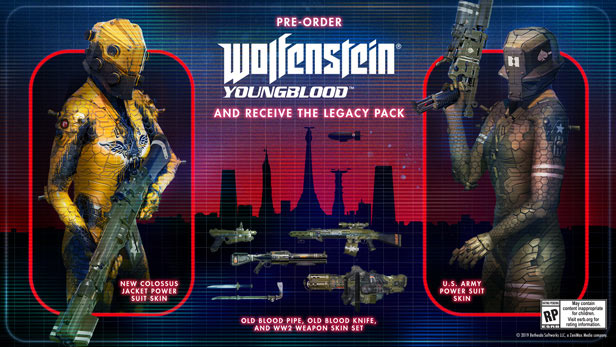 Pre-order now to receive the Legacy Pack and unlock outfits and weapons used by BJ Blazkowicz, including:
New Colossus Jacket power suit skin
BJ's U.S. Army power suit skin
Old Blood Pipe
Old Blood Knife
WW2 Weapon Skin Set, for all ranged weapons
About the game
Wolfenstein: Youngblood is the first modern co-op Wolfenstein adventure.
Nineteen years after the events of Wolfenstein II, BJ Blazckowicz has disappeared after a mission into Nazi-occupied Paris. Now, after years of training from their battle-hardened father, BJ's twin daughters, Jess and Soph Blazkowicz, are forced into action.
Team up with a friend or play alone. Level up, explore, and complete missions to unlock new abilities, weapons, gadgets, cosmetics, and more to complement your playstyle and customize your appearance.
Wolfenstein: Youngblood features the most open-ended Wolfenstein experience to date. From a new base of operations located deep in the heart of the Paris catacombs, plan how and when to attack and dismantle the Nazi regime.
© 2019 Bethesda Softworks LLC, a ZeniMax Media company. MachineGames, Arkane, Bethesda, Bethesda Softworks, ZeniMax and related logos are registered trademarks or trademarks of ZeniMax Media Inc. in the U.S. and/or other countries. Wolfenstein, id, id Software, id Tech and related logos are registered trademarks or trademarks of id Software LLC in the U.S. and/or other countries. All Rights Reserved.
PHOTOSENSITIVITY WARNING: A small percentage of people may experience seizures when exposed to certain lights, patterns or images, even with no history of epilepsy or seizures. Please review the safety information in the product manual, also available at manuals.bethsoft.com.